INDULGE – online food experiences
"Behind the scenes" experience
Have you ever wondered what happens behind the scenes at a luxury hotel to ensure a seamless guest experience? Start with a cocktail experience at the bar, before we embark on a fascinating insider tour behind all those doors which are normally closed to regular guests. Learn about all it takes to make a 5-star hotel run, listen to anecdotes and stories, take a sneak peek into the laundry, prepare your own dishes in the hotel kitchen with the chefs, or how about a round of mini golf in the hotel corridor?
Every "Behind the Scenes" tour is unique, depending on the day and the season: Your host of the evening might be the F&B Director, the Marketing Director or the GM. They all have their own stories, their own experiences and their own favorite corners at the hotel. Depending on the booking situation, you might be able to experience some of the most spectacular rooms and suites at The Dolder. If you're really lucky, you might even be able to play piano and have drinks inside the breathtaking, 400qm Maestro Suite which spreads over two floors! Maybe there is a special pop-up restaurant during your visit, and the visiting chef might feed you some snacks. Dinner might be served at the library or in your own private "restaurant". And who knows … you might also run into some famous guests? One thing is for sure: This "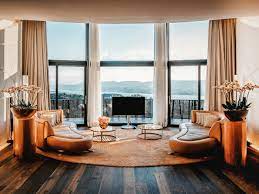 This exclusive experience is limited to 12 guests and includes a private dinner as well as unlimited beverages during the entire evening. Please note that the "Behind the Scenes" Experience at The Dolder Grand is one of our most popular culinary experiences for private and corporate events, we therefore highly encourage you to contact us well in advance in order to set your desired date.
Minimum of 6 guests,  from  CHF 240.- per person incl. alcohol (CHF 190.- without alcohol). Starts at 17.00 until open-end, ask us about our special room rates as the perfect finish of an amazing evening.
ENQUIRE ABOUT "BEHIND THE SCENES" EXPERIENCE